Banking services for children
Banking services for children and young people — what's included? Read tips and instructions to open services for your children.

Accounts
Danske Golden Piglet Account
An account that allows you to save and build up a nest egg for your child. Parents and other relatives can make deposits in the account.
In addition to the basic interest rate of 0,25 %, an interest bonus of 1,5 % is paid if the regular monthly savings are at least €30.
Young Current Account
An own current account for young people aged under 18 for their own outgoings. You can conveniently add the child's first debit card to the account, and the child can use the account independently if he or she has bank identifiers.
How to open an account
The easiest and quickest way to open an account for a child is via the guardians' eBanking. Go to Accounts > Open an account > Account for a child. Guardians will receive a message in eBanking once the account has been opened. The child's guardians must be Danske Bank customers and have bank identifiers to open an account for a child via eBanking. If one of the guardian's is not a customer, please contact our customer service to book a meeting at our nearest branch.
For children aged 8–14, the MunRahat service can also be opened. The service includes two accounts: one for the debit card and the other for saving. Opening the MunRahat service does not require a visit to the bank. The service is available only in Finnish.
Prices, terms and conditions
Saving

If, for example, you want to save child benefit for your child, fund saving is ideal for this purpose. The earlier you start saving, the more the assets will accumulate compound interest and the bigger the funds will grow.
Debit card
The easiest way to order a Mastercard Debit card for a child is in the MunRahat service (available only in Finnish). If you don't have the MunRahat service, a telephone or branch meeting is needed to order a card. A telephone meeting is possible where both guardians have Danske Bank bank identifiers.
In a telephone meeting only one guardian needs to attend the meeting. After the meeting, both guardians will receive agreements on the child's card for them to sign in their eBanking. After this, the child must come to a branch with their official ID.
Another option is to make an appointment for a branch meeting. When doing business in our branches you need to have a valid official ID with you. A minor needs the consent of their guardians to apply for a debit card. If only one guardian is able to come to the branch, an individualised power of attorney from the other guardian is enough. The power of attorney can be sent by Mobile Bank or eBanking message.
General card terms and conditions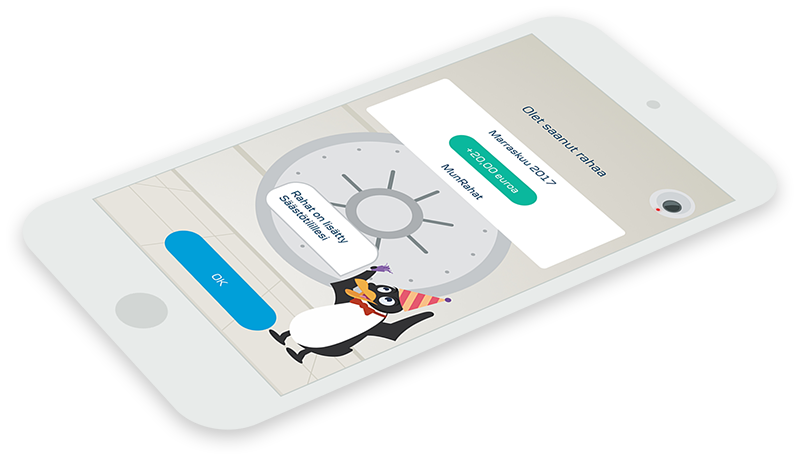 MunRahat
The MunRahat (PocketMoney) service helps children aged 8-14 to learn how to use real money responsibly in a digital world.
The service includes an application which you can easily use to give pocket money to a schoolchild without cash. The child will be given their own debit card and application to manage their money. The MunRahat service includes two accounts: one for the debit card and the other for saving. Parents can transfer money to their child and keep track in their own Mobile Bank of how the child spends the money.
The MunRahat service is available only in Finnish and you can open it in your Mobile Bank.